»About Hockey Made Easy
»About the Author
»Frequently Asked Questions
About the Hockey Made Easy Instruction Manual
Author John Shorey explains to WebMaster Joe Lor what the Hockey Made Easy Instruction Manual is all about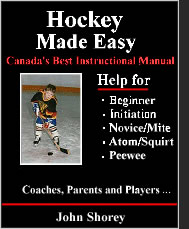 Hockey Made Easy is Canada's premier manual on how to play better hockey. It is a 220+page minor and youth hockey training instruction .pdf e-book written by Hockey Canada Award Winner John Shorey.
Guaranteed to make you a better coach, parent teacher and player or you get your money back!

Hockey Made Easy has helped over 200,000 coaches, parents and players (boys and girls 5 to 12 years of age and older) from around the world learn how to play hockey correctly and safely since its inception and it will help you.
For a more in-depth review of manual contents, please refer to the

Table of Contents
What content is in "Hockey Made Easy" ?

220+ Pages of Hockey Training Information
2,000 Valuable Tips regarding hockey gear/equipment, playing skills, systems,
strategies, stick and skate selection
200 practice drills and diagrams
Easy to Read
Easy to Understand
It will get you to the next level
It was published to help both coaches and parents teach basic and team hockey skills, systems and strategies to young players in Beginner, Initiation, Novice, Mite, Atom, Squirt and Pee Wee Hockey.
 
It is written in an easy-to-read, easy-to-understand language so the information can be easily transferred to your young players to help develop their individual and team hockey skills and knowledge whether playing in a House League or 'AAA' Rep Team program.
Free – Parents and Coaches Teaching Guide with your Purchase
With the purchase of the complete 220-page Hockey Made Easy Instruction Manual you will receive our 30-page Parents and Coaches Teaching Guide—free of charge .
 
This will enable dedicated parents and coaches to teach your son, daughter, or players, in a specific teaching sequence, the basic and advanced hockey skills, systems and strategies at your home, in a classroom, gym or large hall, or on the ice at your practices.
The Hockey Made Easy Instruction Manual provides in-depth training, coaching and teaching instruction on the following topics:
Basic Skills:
Skating: forward, backward, stops, starts, turns and 180-degree pivots
Puckhandling, stickhandling, deking and carrying the puck
Passing and receiving on forehand and backhand
Shooting and scoring: including numerous ways and location to shoot and score goals
Checking: Stick checking & body checking, (to create and recover a loose puck) safely giving and taking a bodycheck, correctly playing 1 on 1 and 2 on 1 situations
Goaltending: Stances, Skills and practice drills
Systems:
Clearing and breakout plays
Forechecking systems 2-1-2 aggressive in your face and 1-2-2 neutral zone trap
Backchecking systems 2-1-2 or 1-2-2
Power play options
Penalty killing options aggressive or passive
Strategy:
Dump and chase
Puck control
Composition of lines and defence pairings
Net coverage and corner work
How to protect a lead
Winning Playoff strategy
Basic Hockey Rules:
Off-sides, delayed off-sides, intentional off-sides
Icing and non-icing
Overview of penalties and what causes them
Conditioning:
Aerobic drills
Anaerobic drills
Protective Equipment
Selection of proper fitting equipment, dressing order, stick selection
for length of stick, lie and curve
Skate sizing and fit, rocker of the blades
Nutrition:
What foods to eat and when to eat them prior to a game or practice
What foods to avoid prior to a game or practice
Hockey Terms and Expressions:
A vast list of hockey terms and expressions that every Minor Hockey coach, parent and player should understand
What Parents, Coaches and Players Need to Know About Minor/Youth Hockey:
Preparing for a Competitive/Travel/Rep/All Star Team tryout training camp
Signing a player commitment card for Rep/Travel players or obtaining a release
Affiliation- what it means and who can be an affiliate player
When to get your child to the arena for a game or practice
Parents' behavior at the game
and much, much, more...