Learn to Play Hockey
Hockey Made Easy Training Manual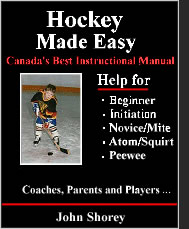 Hockey Made Easy is Canada's premier 220+ page minor and youth hockey instruction manual.
It was published to help both minor and youth hockey coaches and parents teach basic hockey skills, systems and strategies to male and female players aged 5 to 12 years. These typically include Beginner, Initiation, Timbit, Tyke, Novice, Mite, Atom, Squirt and PeeWee programs.
The information is presented in a progressive sequence, beginning with basic hockey skills, moving to team systems and concluding with game strategies and special teams.
The manual contains over 2,000 helpful tips, 200 illustrated diagrams and numerous practice drills. It offers easy-to-read; easy-to-understand information that can be transferred to young players, playing in either house league or a competitive 'AAA' program.
Hockey Made Easy has helped over 200,000 coaches, parents and players from around the world learn how to play hockey correctly and safely since its inception and it will help you.
220+ Pages of Information
2,000 Valuable Tips
200 Illustrations
Easy to Read
Easy to Understand

Download the Table of Contents of Hockey Made Easy