Hockey Made Easy Coaches and
Parents Teaching Guide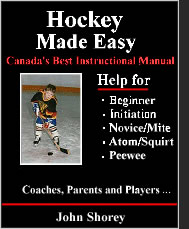 This 30-page manual provides a specific training system and presentation order that outlines what to teach your kids, how to teach it and when to teach it.

Instruction is broken down into five, two-hour teaching sessions that can be taught in a large hall setting, school classroom, gymnasium, home recreation room or on the ice.
Free with the purchase of the complete 220 page Instructional Manual
Learn how to effectively teach your team:
Fundamental Individual Skills
- Skating
- Passing & Receiving
- Puckhandling, Stickhandling & Deking
- Shooting & Scoring
- Checking—Stick and Bodychecking  

Offensive and Defensive Systems
- Clearing and Breakout Plays
- Forechecking
- Backchecking
- Power Play
- Penalty Killing

Developing and Implementing Hockey Strategy
The Parent's and Coach's Teaching Guide Summary
The Parent's and Coach's Teaching Guide was developed specifically for teaching Minor and Youth Hockey male and female players 5 - 12 years of age in house league programs or on Rep teams.

This Teaching Guide is considered most effective if used in conjunction with "Hockey Made Easy" – Canada's Best Instruction Manual, but it can also be used as a stand-alone teaching tool.

It offers valuable Hockey Tips to help you teach basic skills and systems to your House League or Travel Team Players so they can understand the objectives of the game and learn the skills required to play hockey correctly and safely at a young age.

This 30 page, Teaching Guide contains reference pages to the e-Book version of the Hockey Made Easy Instruction Manual for your benefit.

In the Parent's and Coaches Teaching Guide you will find:

An introduction to Teaching Hockey skills and systems to 5 to 12 year old hockey players, the preparation required for the Sessions, teaching locations, equipment required by the instructor, players equipment required, setting up the room, teaching sequences, followed by the specifics of the 5- Teaching Sessions.


Download a sample from Coaches and Parents Teaching Guide